Strategi Pemasaran Industri Konveksi Menggunakan Analisis "SWOT"
Ikhwan Yunus

Universitas merdeka pasuruan
Abstract
The development of the convection industry in Indonesia is growing rapidly. This is because the convection industry is an industry that is needed by the community in meeting clothing needs. In addition, clothing itself is experiencing changes in trends and functions, namely being used as an identity attribute, so that the convection business is in great demand in Indonesia. This study uses a qualitative descriptive method with a SWOT analysis to take advantage of opportunities by maximizing strengths, reducing weaknesses and avoiding threats. The strength of the convection business is classified as a promising business. Weaknesses are lack of capital to develop a business, less competent employees are employed. The target market opportunities are very wide. The threat of the existence of illegal imported products on the domestic market either directly or indirectly.
References
Almar, Multafia. 2014. Pengaruh Pengungkapan Corporate Social Responsibility (CSR) Terhadap Profitabilitas Perusahaan. ISSN-2252-3936.
Arifin, A. MT Widayanto. H. Hermanto. (2017). Pengaruh Produk, Harga, Distribusi dan Promosi Terhadap Keputusan Pembelian. Jurnal Ilmiah Ecobuss 5 (2), 10-21
David, Fred R. 2006. Management: manajemen Strategis Konsep. Jakarta: Salemba Empat.
Fandy, Tjiptono. (2005). Strategi Pemasaran. Edisi Kedua. Cetakan Pertama. Yogyakarta: Penerbit Andi Offset.
Kotler dan Gary Amstrong. (2008). Dasar-Dasar Pemasaran. Edisi Kesembilan. Jilid 1. Jakarta: PT. Indeks Kelompok Gramedia.
Nuary, Nizar Sapta. (2016). Strategi Pemasaran dengan Pendekatan Analisis SWOT pada PT. Super Sukses Motor Banjarmasin.
Widayanto, MT. Hermawan, DJ. Junaidi, Natsir, M. (2020) "Implementasi Manajemen Strategik Dan Hubungannya Dengan Keberlangsungan (Going Concern) Usaha". SKETSA BISNIS 7 (2), 72-83.
Widayanto, MT, (2020) "Analisis Penerapan Manajemen Strategik dan Pengaruhnya Terhadap Kinerja Usaha", Jurnal Manajemen dan Kewirausahaan, Vol 5, No 3, 173-182.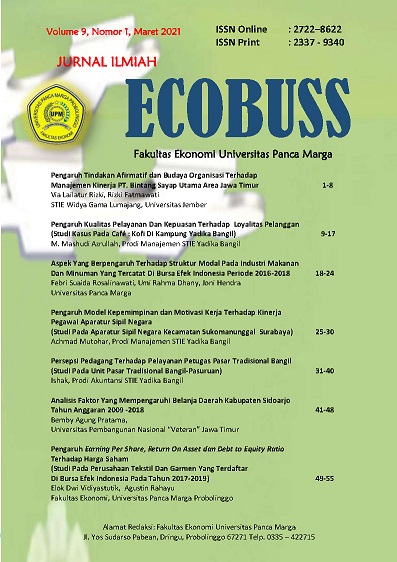 How to Cite
Yunus, I. (2021). Strategi Pemasaran Industri Konveksi Menggunakan Analisis "SWOT". Jurnal Ilmiah Ecobuss, 9(2), 95-99. https://doi.org/10.51747/ecobuss.v9i2.784