Politik Hukum Undang-Undang Nomor 16 Tahun 2019 Tentang Perubahan Atas Undang-Undang Nomor 1 Tahun 1974 Tentang Perkawinan
Muhamad Hasan Sebyar

Sekolah Tinggi Agama Islam Negeri Mandailing Natal, Sumatera Utara
Abstract
The purpose of this journal is to find at the legal policy of Law Number 16 of 2019 Regarding Changes to Law Number 1 of 1974 concerning Marriage. The research method used is normative legal research. The results of this study indicate that the legal policy of Law no. 16 of 2019 concerning Amendments to Law No. 1 of 1974 concerning Marriage is the spirit of preventing child marriage, the method used is to increase the age of marriage. This is considered urgent so it must be approved immediately. The political configuration in the formation of this law can be said to be a democratic configuration, seen from the discussion that absorbs the aspirations of various parties, but it can also be considered as an authoritarian configuration, seen when the government grabs and enforces a bill proposed by the government, even though the bill has already been passed. discussed and proposed by the DPR.
Keywords : Legal Policy, marriage
Downloads
Download data is not yet available.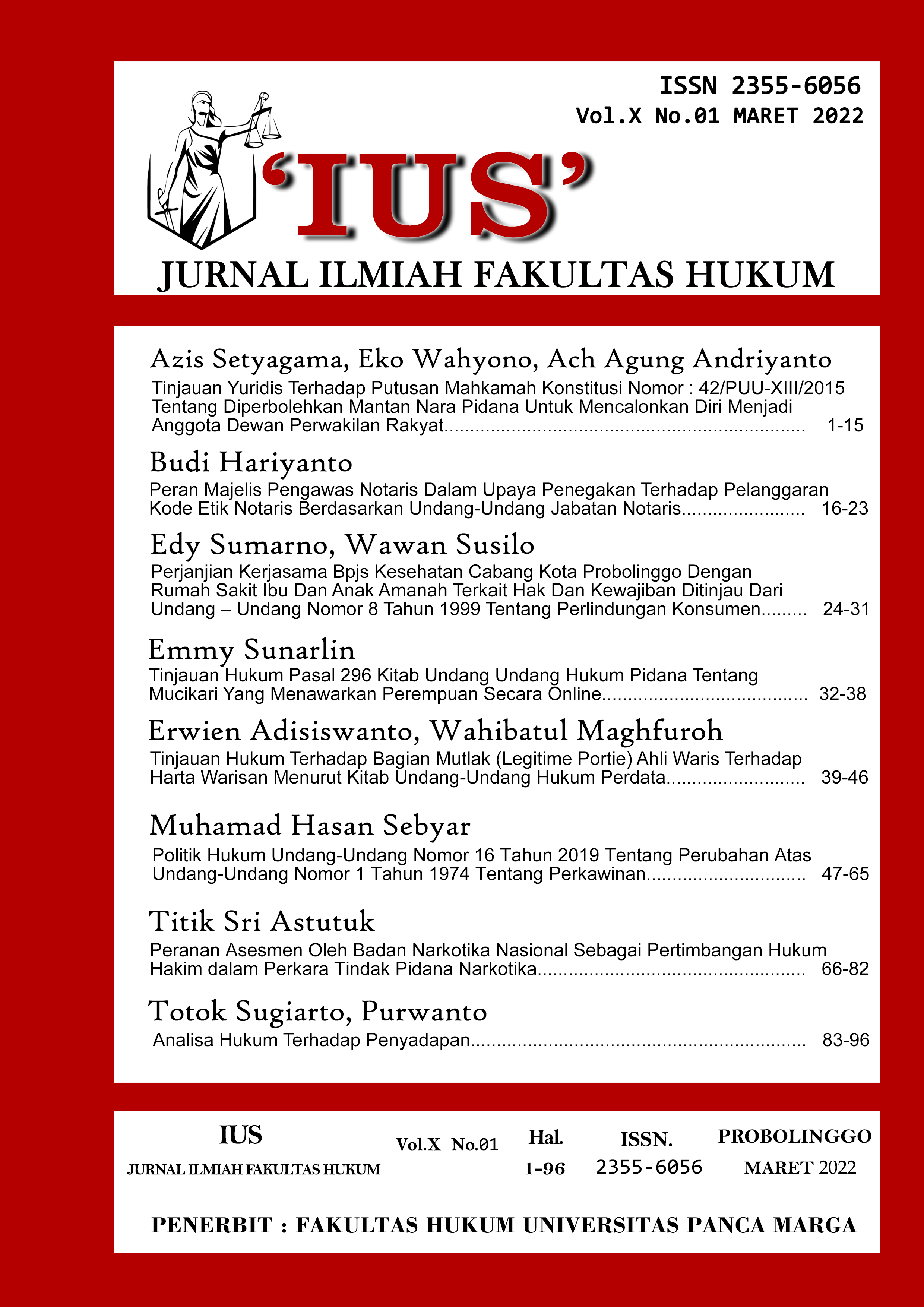 How to Cite
Sebyar, M. (2022). Politik Hukum Undang-Undang Nomor 16 Tahun 2019 Tentang Perubahan Atas Undang-Undang Nomor 1 Tahun 1974 Tentang Perkawinan. IUS : Jurnal Ilmiah Fakultas Hukum, 9(01), 47-65. https://doi.org/10.51747/ius.v0i01.963