Peranan Asesmen Oleh Badan Narkotika Nasional Sebagai Pertimbangan Hukum Hakim dalam Perkara Tindak Pidana Narkotika
Titik Sri Astutuk

Dosen Fakultas Hukum Universitas Lumajang - Jalan Musi Nomor 12 Lumajang
Abstract
In the context of handling narcotics crime cases in Indonesia, an Integrated Assessment Team has been established at the central, provincial, district/city levels consisting of a team of doctors and a legal team tasked with carrying out an analysis of the role of suspects arrested at the request of investigators relating to trafficking. narcotics, especially for addicts. The team then carries out a legal analysis, medical analysis and psychosocial analysis and makes a rehabilitation plan that includes how long rehabilitation is needed. The legal issue in this case concerns the politics of criminal law on the role of assessment by the National Narcotics Agency in the settlement of narcotics cases. The research method used is normative juridical with a conceptual approach, laws and cases. The result of this research is an assessment of the National Narcotics Agency in accordance with the principle of legal certainty, because through a series of careful and thorough analysis procedures on a person's involvement in narcotics crimes it can then be determined that someone is an addict who will get rehabilitation However, the assessment is basically not the judge's main consideration in making a decision because it must be supported by other evidence at trial and the judge's conviction. The results of the assessment as the completeness of the case file function as information such as visum et repertum. Based on the analysis will sort out the role of the suspect as an abuser, abuser concurrently dealer or dealer. The Integrated Assessment Team for abusers will produce levels of addicts ranging from heavy, middle and light class addicts where each level of addicts requires different rehabilitation. Recommendations that can be given based on this research are that the assessment from the National Narcotics Agency used as legal evidence in the trial means that it is related to criminal procedural law. The second result is that the assessment from the National Narcotics Agency is normalized.
Keywords : Assessment, National Narcotics Agency, Penal Policy
Downloads
Download data is not yet available.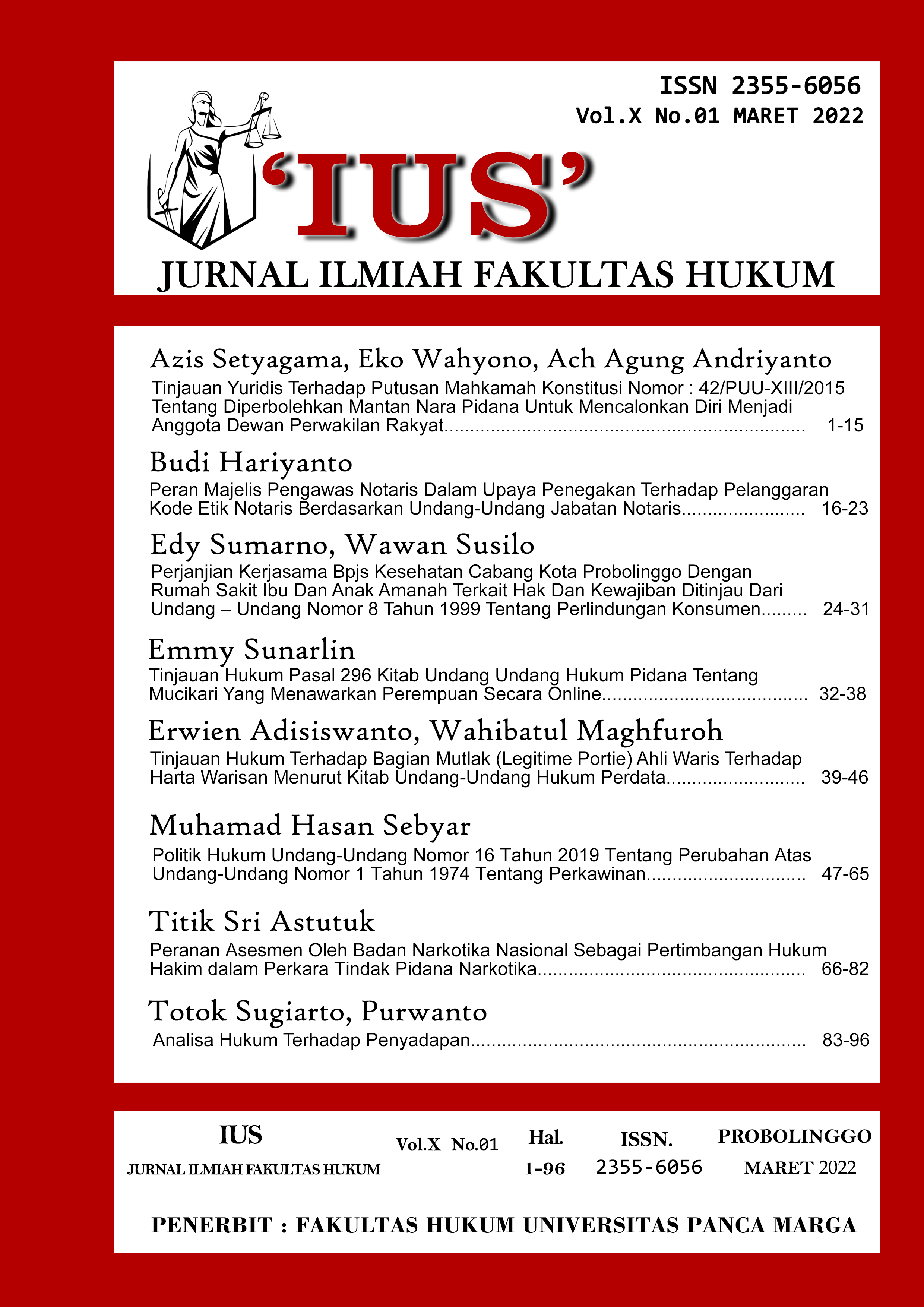 How to Cite
Astutuk, T. (2022). Peranan Asesmen Oleh Badan Narkotika Nasional Sebagai Pertimbangan Hukum Hakim dalam Perkara Tindak Pidana Narkotika. IUS : Jurnal Ilmiah Fakultas Hukum, 9(01), 66-82. https://doi.org/10.51747/ius.v0i01.964