Analisis Strategi Untuk Pengembangan Usaha Usaha Mikro Kecil dan Menengah di Gresik Jawa Timur
(Studi pada UD Nur Rohmah di Desa Sidowungu, Menganti, Gresik, Jawa Timur)
Arif Syaifudin

Sekolah Tinggi Ilmu Ekonomi Yadika Bangil
Abstract
Judging from the business competition in the snack food sector in Gresik, there are a lot of snack businesses that are open, causing intense competition. In addition, there are consumer tastes that are constantly changing and want healthy snacks with good quality and affordable prices so that UD. Nur Rohmah is required to provide something different from other snacks so that consumers can be loyal. The research was conducted with the aim of describing the strategies that have been implemented, to analyze the internal and external environment and to develop alternative business development strategies. The research was conducted at UD. Nur Rohmah Replaces Gresik. Data were collected through observation, document analysis, and interviews using the snowball sampling technique. The data analysis method was carried out using the SWOT analysis method (Strengths, Weaknesses, Opportunities and Threats). The results showed that by implementing a market development strategy using SWOT UD. Nur Rohmah has more customers and can open new branches to expand its market share in accordance with his vision.
Keyword: MSMEs, Business Environment, SWOT Analysis, Business Development Strategies
References
[1]Abor, Joshua & Quartey, P. (2010). Issues in SME Development in Ghana and South Africa. EuroJournals Publishing, Inc.
[2] Bateman, Thomas S. & Snell, S. A. (2017). Management: Leading and Collaborating in a Competitive World. McGraw-Hill Companies, Inc.
[3] David, F. R. (2013). Strategic Management: Concepts and Cases (14th ed.). Pearson Education, Inc.
[4] Fazriyati, W. (2012). Menikmati sambal Bu Rudy di Gresik. Kompas CyberMedia.
[5] GAPMMI. (n.d.). Industri Makanan ringan dan Minuman Masih Menghadapi Sejumlah Tantangan. http://www.gapmmi.or.id/?pilih=lihat&id=25542
[6] Indonesia, B. (2008). Undang-Undang Republik Indonesia Nomor 20 Tahun 2008 Tentang Usaha Mikro, Kecil dan Menengah. http://www.bi.go.id/id/tentang-bi/uu- bi/Documents/UU20Tahun2008UMKM
[7] Majid. (n.d.). Warung Leko; Jadi Rujukan Para Penikmat Kuliner. http://www.majalahfranchise.com/v2/newsflash/218-warung-leko-jadi-rujukan-para-penikmat-kuliner.html
[8] Moleong, L. J. (2014). Metodologi Penelitian Kualitatif (Rev. Ed.). Remaja Rosdakarya.
[9] Nelke, M. (2010). Strategic Business Development for Information Centres and Libraries. UK: Chandos Publishing.
[10] Rajasa, A. (n.d.). Indonesia Banjir Produk Makanan ringan dan Minuman Impor. http://microsite.metrotvnews.com/metronews/read/2014/01/21/2/209565/Indonesia-Banjir-Produk-Makanan ringan-dan-Minuman-Impor
[11] Robbins, Stephen P. & Coulter, M. (2011). Management (11th ed.). Pearson Education, Inc.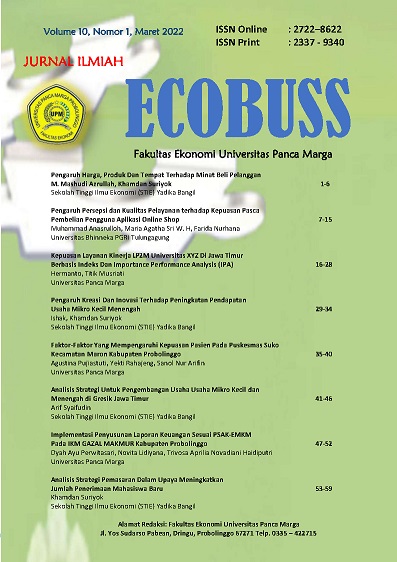 How to Cite
Syaifudin, A. (2022). Analisis Strategi Untuk Pengembangan Usaha Usaha Mikro Kecil dan Menengah di Gresik Jawa Timur. Jurnal Ilmiah Ecobuss, 10(1), 41-46. https://doi.org/10.51747/ecobuss.v10i1.919