Analisis Strategi Pemasaran Dalam Upaya Meningkatkan Jumlah Penerimaan Mahasiswa Baru
(Studi pada Sekolah Tinggi Ilmu Ekonomi (STIE) Yadika Bangil)
Khamdan Suriyok

Sekolah Tinggi Ilmu Ekonomi Yadika Bangil
Abstract
The research was conducted with the aim of knowing and analyzing marketing strategies in an effort to increase the number of new student admissions. The research was conducted at the Yadika Bangil School of Economics (STIE). Data were collected through observation, document analysis, and interviews. The data analysis technique was carried out using the SWOT analysis method (Strengths, Weaknesses, Opportunities and Threats). The results showed that the more programs there were, the more alternatives students had to choose from. In addition, the programs offered will increase student interest in registering. As well as large financial support for promotion and supported by good quality lecturers, various study programs and affordable prices can increase the number of students.
Keyword: Increasing Number of Student, Marketing Strategy, SWOT  
References
[1] Fadli, K. (2019). Strategi Komunikasi Pemasaran Dalam Meningkatkan Jumlah Mahasiswa Baru Pada Universitas Karimun.
[2] Gitosudarno, I. (2010). Manajemen Pemasaran. BPFE.
[3] Handoko, T. (2012). Formula Strategi Pemasaran Pelumas Repsol pada PT. Sukabumi Trading Coy Jateng. In Manajemen. Universitas Diponegoro.
[4] Harper, O. (2010). Manajemen Pemasaran : Suatu Pendekatan Strategis dengan Orientasi Global. Erlangga.
[5] Jacks, D. (2010). Customer Value : The Next Source for Competitive Advantage. Academy of Marketing Science, 25.
[6] Kotler, P. (2005). Manajemen Pemasaran Edisi Millenium (H. Teguh (ed.); Millenium).
[7] Lamb, H. (2011). Pemasaran (D. Oktarevia (ed.); Buku Dua). Salemba Empat.
[8] Lupiyoadi, R. dan H. (2016). Manajemen pemasaran Jasa (2nd ed.). Salemba Empat.
[9] Parasuraman A Valerie A Zeithaml, L. (2018). Seruqual : A Multiple Item Scale Of Measuring Consumer Repceptions Of Service Quality. Realiting P 12-14.
[10] Pelhan, A. M. (2017). Mediating Influ ences On The Relationship Battween Market Orentation and Probility Is Small Industrian Firms. Marketing.
[11] Setianto, A. (2014). Efektivitas Orientasi Pasar, Inovasi, Kualitas Layanan dan Kinerja Pemasaran pengaruhnya terhadap Keunggulan Bersaing. Universitas Diponegoro.
[12] Sidik, I. (2010). Pemasaran Stratejik dan Strategi Pemasaran. Forum Manajemen Prasetya Mulya, 72, P. 14-19.
[13] Sistianto, D. (2013). Analisis Orientasi Pasar, Inovasi dan Strategi Pemasaran terhadap Kinerja Pemasaran. Universitas Diponegoro.
[14] Sopandi, E. (2010). Strategi Promosi Penerimaan Mahasiswa Baru Untuk PTS.
[15] Tade Palli, R. and R. A. (2009). Market Orientation and The Marketing Strategy Process. Marketing Theory and Practice, Spring, P. 69-82.
[16] Wijaya, N. Q. (2016). Strategi Untuk Meningkatkan Minat Mahasiswa Baru.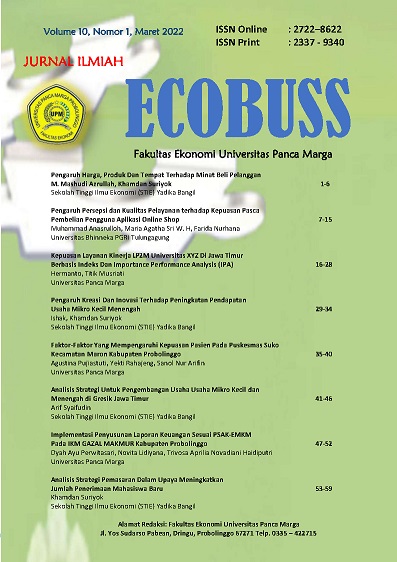 How to Cite
Suriyok, K. (2022). Analisis Strategi Pemasaran Dalam Upaya Meningkatkan Jumlah Penerimaan Mahasiswa Baru. Jurnal Ilmiah Ecobuss, 10(1), 53-59. https://doi.org/10.51747/ecobuss.v10i1.908